Premier Towing & Recovery Company in Cheyenne, CO
Towing Services in Cheyenne
From roadside recovery to impound service, we are a complete Cheyenne recovery and towing company. Our towing services in Cheyenne include:
Call Dedicated Towing and Recovery now to see how we can help.
Roadside Assistance in Cheyenne
Being stuck on the road with no way to get help can be a upsetting circumstance. Fortunately roadside trouble is no problem for the premier towing and roadside assistance company.
Dedicated Towing & Recovery can help with all types of roadside help. Did you lock your keys in your truck? Our team can assist you to get into your vehicle. Do your tires need a change? This is no problem – we have tire service as well. Run out of gas? We can bring you fuel to get you moving in short time.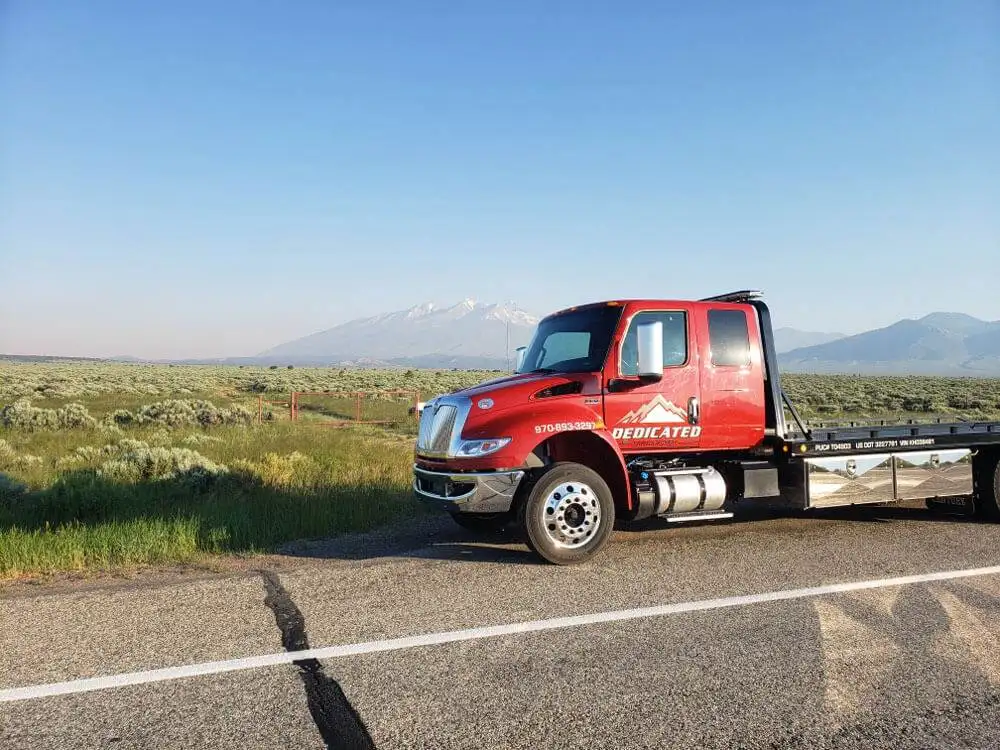 Cheyenne Emergency Towing
If you get caught in a rough spot and need a towing assist, we are your first call. As a Cheyenne emergency towing company we can help you seven days a week, 24 hours a day.
When you're in a tough spot, there's no need to panic. What you can do is call our 24/7 dispatcher and we can send you assistance instantly. With highly-trained, certified, and licensed operators, you can be certain that we will get the job done right away. We are devoted to trustworthy towing services to our Cheyenne customers no matter the urgent situation they're in.
If you're stuck in a bind and require an emergency tow, give Dedicated towing & Recovery a call now!
Local Towing Company in Cheyenne
We are a family-owned and operated, local Cheyenne business. We've provided towing and recovery services to Cheyenne and areas surrounding for more than 10 years, always putting our clients and their needs first.
Dedicated Towing & Recovery has tons of experience in the towing industry, and we promise professional and timely services regardless of what kind of help you need. As a family-owned, local business we understand the value of developing relationships with our customers. Dedicated Towing & Recovery treats all of our clients as our own family, providing the best services and treatment we can.
Call Dedicated Towing and Recovery now for personal towing services
Cheyenne Roadside Assistance Service
Dedicated Towing and Recovery offers comprehensive automotive assistance. This means we can tow you anywhere on the Front Range from Cheyenne to Golden without hesitation. We will transport equipment, help recover your car after an wreck, and service your battery. Nothing is outside our capability, so when you have a situation involving your car and you need a fix, give the Cheyenne towing experts a call.
Parking Lot Management for Cheyenne Businesses
If you are a Cheyenne business manager dealing with abandoned or illegally parked cars. It might be a lot for an apartment building that people think is used for car storage.
Dealing with these annoyances can divert your attention from operating your small business or running your property. We can tow abandoned or illegally parked vehicles right away, leaving your lot available for the customers and residents that need it.
If you require parking lot management in Cheyenne, make us your first call!
Cheyenne Impounds
Dedicated Towing and Recovery impounds cars, trucks and vehicles on various occasions. If you have reason to believe we have impounded your automobile please contact us. In addition we have a vehicle lookup database where you can search our database for your VIN or license plate number.
We know that getting your vehicle impounded is aggravating. This is why we work with you to return your car back to you quickly. To answer questions about impounds please contact us.
Professional Customer Towing Service
As the best towing and recovery company in Cheyenne, we pride ourselves of customer service. We provide a level of value, service, and care you won't get anywhere else. Nobody likes being stuck with car issues, so if you contact one of our dispatchers they use out Rapid Response Dispatch System to get you a quote and assistance right away. You can get updates through the entire procedure from your tow specialist.
When you need help with towing give Dedicated Towing & Recovery a call!