Your Reliable Towing Partner in Loveland, CO
Are you looking for a reliable towing partner in Loveland, CO? Look no further than Dedicated Towing and Recovery. With years of experience in the industry, we have established ourselves as the go-to towing service provider for both light-duty and heavy-duty vehicles. Whether you need a simple jump start, a tire change, or a long-distance tow for your heavy-duty truck, we have the expertise and equipment to do the job safely and efficiently.
We know that towing emergencies can happen anytime, so we offer 24/7 customer support and quick response times. Our team of experienced and certified tow operators will assess the situation and provide a tailored solution to meet your unique needs.
Towing Service in Loveland
From impound service to roadside recovery, we are a complete Loveland towing & recovery company. Our towing services in Loveland include:
Contact Dedicated Towing and Recovery now to see how we can help.
Local Towing Company in Loveland for Dependable Assistance
Dedicated Towing and Recovery is the local towing company in Loveland, providing reliable assistance to needy drivers. With years of experience in the industry, our team of experts can handle any vehicle emergency, whether it's a flat tire, dead battery, or even an accident.
Our commitment to prompt and reliable services has earned us the reputation of being the best towing company in the area. Our service offerings are not limited to towing and recovery of vehicles, but we also offer winch services, jump starts, tire changes, and fuel deliveries. 
Private Property Impounds: Handling Unauthorized Vehicles with Expertise
We are your reliable partner in seizing private property and dealing with unregistered vehicles. We understand the importance of handling unregistered vehicles on private property quickly and efficiently, and we ensure our services are tailored to your needs.
At Dedicated Towing and Recovery, we pride ourselves on our professionalism and commitment to customer satisfaction. Our team is available 24/7 to handle your towing and recovery needs, and we are committed to providing you with fast and reliable service at competitive rates.
Do not let unauthorized vehicles on your property cause you headaches and frustration. Let Dedicated Towing and Recovery take care of it for you. 
Safe and Secure Light-Duty Towing Services in Loveland, CO
Dedicated Towing and Recovery takes great pride in offering safe and secure light-duty towing services to residents and businesses in Loveland, CO. Our team of experienced tow truck drivers has served the local community for many years, providing fast, efficient, and affordable towing solutions for all types of vehicles.
We know that breaking down on the side of the road can be a stressful and unpleasant experience. That's why we strive to provide our customers with the highest service and care. With our modern and well-maintained tow trucks, we can quickly and efficiently handle any light vehicle towing job, from local to long-distance. Contact us today for fast and efficient towing services you can trust!
Roadside Assistance in Loveland
Being stuck on the roadside with no way to get home is a upsetting situation. Luckily roadside problems is no problem for the leading towing and roadside assistance company.
Dedicated Towing & Recovery can help with all types of roadside assistance. Did you leave your keys in your car? Our team can help you getting back inside your automobile. Do your tires need a change? No problem – we have tire replacements as well. Is your gas tank empty? We will bring you gas to get you moving quickly.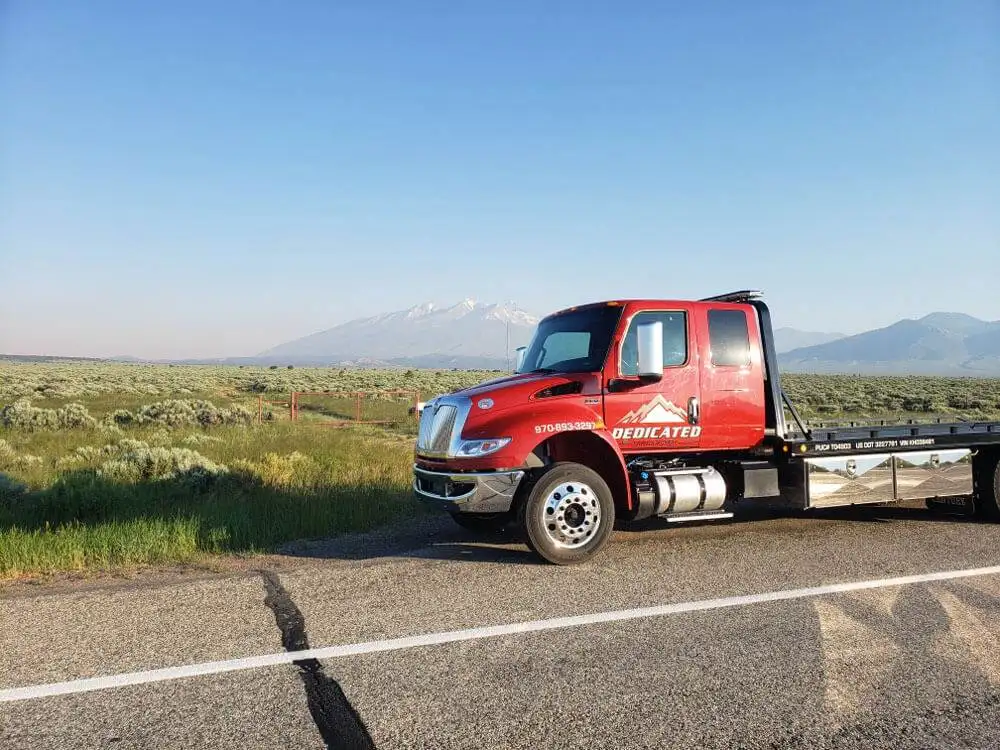 Loveland Emergency Towing
If you are in a tight spot and need a towing assist, we can handle it. As a Loveland emergency towing company we can help you 7 days a week, 24 hours a day.
When you're in a tight spot, there's no need to panic. What you can do is contact our 24/7 tow dispatcher and we can send you assistance quickly. With licensed, certified, and highly-trained operators, you can be certain that we will get the job done right. We are committed to trustworthy towing services to our Loveland customers regardless of the sticky situation they are in.
If you are stuck in a bind and could use an emergency tow, give us a call today!
Local Towing Company in Loveland
We are a family-owned and operated, local Loveland business. We have offered recovery and towing services to Loveland and the surrounding area for more than ten years, always putting our customers first.
Dedicated Towing & Recovery has lots of experience in the towing industry, and we promise timely and professional services regardless of what type of assistance you require. As a local, family-owned business we understand the significance of developing relationships with clients. We treat all clients as our own family, offering the best services and treatment we can provide.
Call Dedicated Towing and Recovery today for great towing services
Loveland Roadside Assistance Services
We offer thorough automotive assistance. Which means we will tow you anywhere on the Front Range from Loveland to Broomfield without hesitation. We can service your car battery, transport equipment, and help recover your truck after an wreck. Nothing is outside our wheelhouse, so when you have a problem regarding your vehicle and you need fixing, give the Loveland towing experts a call.
Parking Lot Management for Loveland Businesses
Maybe you're a Loveland business owner that has illegally parked cars or abandoned cars. It could be a parking lot for an apartment complex that people think is a storage facility.
Handling these nuisances might distract your attention from running your business or managing your property. We can tow abandoned or illegally parked vehicles right away, to leave your parking lot free to use for the customers and residents who need it.
If you require parking lot management in Loveland, make us your only call!
Loveland Impounds
We impound cars, trucks and vehicles on various occasions. If you believe we have impounded your car please contact us. In addition we have a vehicle lookup database where you can search our database for your license plate number or VIN.
We understand that getting your car impounded is maddening. This is why we work with you to get your car back to you as quick as possible. With any questions about impounds please contact us.
Professional Customer Tow Service
As the top towing and recovery company in Loveland, we are proud of customer service. We provide a level of care, service, and value you can't find anywhere else. No one likes being stuck with auto problems, so when you call one of our dispatchers they use out Rapid Response Dispatch System to get you a quote and assistance right away. You will be sent updates through the whole process from your towing technician.
When you need tow assistance give Dedicated Towing & Recovery a call!
Efficient Towing Services for All Your Needs in Loveland, CO
We provide reliable and efficient towing services in Loveland and surrounding areas. Our expert team of drivers and technicians is available 24/7 to handle all your roadside emergencies. From towing motorcycles to transporting heavy equipment, we have the equipment and experience to handle any job. Trust us for fast response times, competitive pricing, and top-notch service. We take the stress out of towing for you!
24/7 Emergency Towing and Roadside Assistance You Can Count On
We proudly offer reliable and trustworthy 24/7 emergency towing and roadside assistance services you can always count on. Whether you are stuck on the side of the road with a flat tire or have a more serious mechanical issue, our highly trained professionals can provide fast and efficient solutions to get you back on the road.
With our years of experience and commitment to customer satisfaction, you can rest assured that we will always go above and beyond to meet your needs. 
Highly-Trained and Experienced Tow Truck Operators in Loveland
At Dedicated Towing and Recovery in Loveland, we know that being stuck on the side of the road can be a stressful and frustrating experience. We offer well-trained, experienced tow truck drivers who provide fast and efficient towing and recovery services. 
Our team is committed to your safety and provides top-notch customer service. Whether you need a tow, jump start, or tire change, our professionals have the skills and equipment to handle any situation. Trust us to get you back on the road safely and quickly. Contact us today for reliable towing and recovery services in Loveland.
Frequently Asked Questions
What should I do if I have a flat tire or breakdown in Loveland, CO?
Contact our towing company immediately if you experience a flat tire or breakdown in Loveland or the surrounding Northern Colorado area. We offer prompt, professional service to help you get back on the road as soon as possible.
What additional services does Dedicated Towing and Recovery offer beyond towing services? 
In addition to towing, we offer roadside assistance, lockout services, jump-starts, winching, and tire changes.
Are your towing and recovery services available 24/7?
We offer 24/7 towing and recovery services at Dedicated Towing and Recovery. We understand that emergencies can happen anytime and are always here to help.