Premier Towing & Recovery Company in Red Feather Lakes
Towing Services in Red Feather Lakes
From impound service to roadside recovery, we are a all-encompassing Red Feather Lakes recovery & towing company. Our towing services in Red Feather Lakes include:
Contact Dedicated Towing and Recovery today to see how we can help.
Roadside Assistance nearby Red Feather Lakes
Getting stuck on the road with no way to get help can be a stressful situation. Luckily roadside trouble is no problem for the most-trusted roadside assistance and towing company.
Dedicated Towing & Recovery can help with all types of roadside assistance. Did you lock your keys in your car? We can help you to get back inside your vehicle. Do your tires need a change? This isn't a problem – we have tire changes also. Gas tank empty? We can bring you fuel and get you back on the road quickly.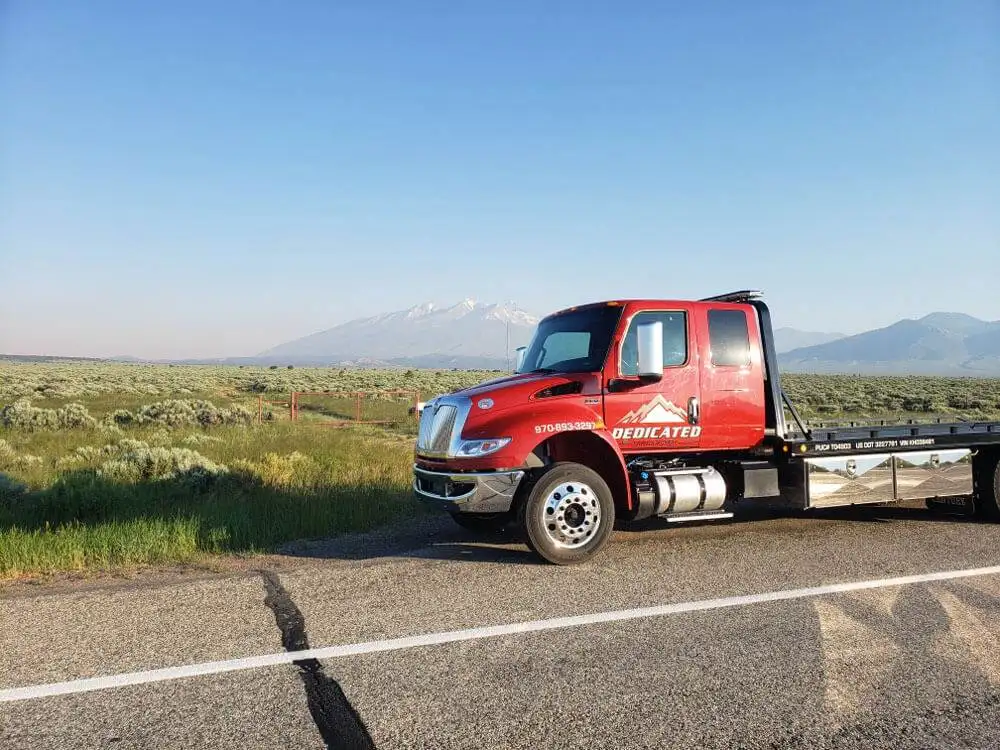 Red Feather Lakes Emergency Towing
If you are in a tight spot and need a towing assist, we can handle it. As a Red Feather Lakes emergency towing company we are able to assist you 24 hours a day, seven days a week.
When you are in a jam, don't panic. All you need to do is call our 24/7 towing dispatcher and we will send you assistance right away. With highly-trained, licensed, and certified operators, you can rest assured we'll get the job done right. Dedicated Towing & Recovery is devoted to dependable towing services to our Red Feather Lakes customers regardless of the sticky situation they're in.
If you are stuck in a bind and require an emergency tow, give Dedicated towing & Recovery a call today!
Local Towing Company in Red Feather Lakes
We are a local Red Feather Lakes business, family-owned and operated. We have offered recovery and towing services to Red Feather Lakes and the surrounding area for more than ten years, always putting our customers first.
We have a lot of experience in the towing industry, and we guarantee timely and professional services no matter what kind of help you need. As a family-owned, local tow business we understand the value of forming relationships with our clients. Dedicated Towing & Recovery treats all customers like family, providing the very best services and treatment we can.
Contact Dedicated Towing and Recovery now for individualized towing services.
Red Feather Lakes Roadside Assistance Services
We offer comprehensive roadside assistance. Which means we will tow you anywhere on the Front Range from Red Feather Lakes to Broomfield in a pinch. We can transport equipment, help recover your truck after an accident, and service your car battery. Nothing is outside our wheelhouse, so when you have a situation involving your car and you need fixing, give the Red Feather Lakes towing experts a call.
Parking Lot Management for Red Feather Lakes Businesses
Maybe you're a Red Feather Lakes business manager dealing with illegally parked or abandoned cars. It might be a lot for an apartment building that people think is used for car storage.
Dealing with these problems might divert your attention from actually running your small business or managing your property. We can tow abandoned or illegally parked vehicles quickly, to leave your lot available for the residents and customers that need it.
If you require parking lot management in Red Feather Lakes, make us your only call!
Red Feather Lakes Impounds
Dedicated Towing and Recovery impounds cars, trucks and vehicles on various occasions. If you believe we have impounded your car please contact us. In addition we have a vehicle lookup database where you can look through our records for your VIN or license plate number.
We know that having your car impounded is irritating. Because of this we work with you to return your car back to you as quick as possible. With any questions about impounds please call us.
Best Customer Towing Service
As the top towing and recovery company in Red Feather Lakes, we pride ourselves of customer service. We provide a level of care, value, and service you can't get elsewhere. Nobody likes being stuck with auto issues, so when you call our dispatchers they utilize out Rapid Response Dispatch System to get you a quote and assistance right away. You can get updates through the entire process from your tow technician.
When you require towing assistance give Dedicated Towing & Recovery a call!